Cannabis industry is one of the fastest growing industries that you can see out there in the world. If you're looking forward to getting into the cannabis industry, you may think of becoming a Budtender. It isan excellent example for an entry-level positioning to the cannabis industry as well. Continue to read and we will be sharing all useful details that you need to know about Becoming a Budtender.
Budtender job description
As a Budtender, you will have to interact with people who are about to purchase cannabis. They include people who use cannabis for medicinal use as well as recreational use. You will need to have a strong
understanding about different cannabis products to help them. In other words, you should be offering your expertise and help them with finding the best cannabis products available out there to cater to their needs.
While working as a caregiver in a cannabis dispensary, a Budtender will need to provide recommendations as well as education with related to cannabis products. This is where you should be
aware of the cannabis edibles, flower, topicals, and concentrations. Moreover, you should be able to weigh, facilitate, and package the sale of cannabis products. Cannabis industry is a fast-moving industry. As a result, new strains and products will continuously be available for people to buy. You need to have an up to date understanding about those strains and products. In the meantime, you will need to maintain patient information and records. This is something required by the law.
Skills that you need to have to Become a Budtender
If you are interested in becoming a Budtender, there are few essential skills that you need to have. For example, you need to have excellent people skills as you will be working with people throughout the
day. You need to have the natural desire to educate and help people with getting their needs catered. Moreover, anyone who is planning to become a Budtender should be aware of cannabis cultivars
available in the market. This should include the knowledge of cannabis dosage, cannabis ingestion, and even cannabis side effects. If you are passionate about cannabis and if you can work in a fast-paced
environment, working as a Budtender will not be a challenging experience for you.
Training for Budtenders at Oaksterdam University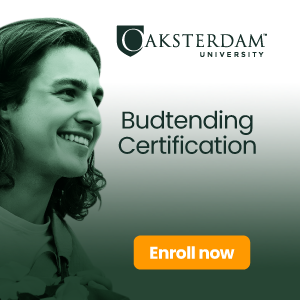 To secure your job as a Budtender in the cannabis industry, it is better if you can have some academic qualifications. This is where you may think about joining for the training program organized at the Oaksterdam University. The university offers a Budtender Certification Program, which covers all essentials that you need to be aware of before you start working as a professional Budtender. By completing this certification program, you will be able to learn more about different cannabis strains and the effect that they create on humans. On the other hand, you will get the knowledge on how to figure out the needs of a person and recommend the most appropriate cannabis strain. You will also be able to learn more about the history of cannabis, cultivation methods, extraction methods, and laws with related to it. This is the most comprehensive training program that you can follow to learn more about cannabis.
Apply for Budtender jobs at Cannabisjobs.solutions
Upon completion of the Budtender Certification Program at Oaksterdam University, you will come across the need to find a job. This is where you may take a look at the Budtender jobs that are available
at Cannabisjobs.solutions. It is a perfect platform, which shares information with related to a variety of cannabis industry related jobs. You can simply go through job listings and apply for the best Budtender job vacancies, where you would fit in.