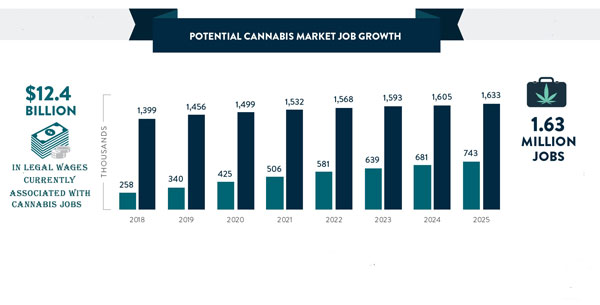 U.S. Now Supports Over 321, 000 Cannabis Jobs
Even as millions of Americans struggle with unemployment amid the coronavirus-related recession, the cannabis industry is growing. A 2021 Leafly report indicates that legal cannabis now supports a record-high 321,000 full-time Cannabis Jobs across the 37 states with legal medical or adult-use markets and that the cannabis industry added 77,300 Cannabis Jobs in just the last year, representing a record 32 percent increase in year-over-year growth and creating jobs at a faster rate than any other American industry.
Cannabis Job Facts:
It is America's single greatest job creation engine growing faster than any other industry doubling in size over the past four years.
Reports from the Bureau of Statistics indicate that 3X's more people work in the legal cannabis space than beverage and tobacco manufacturing.
The cannabis industry was a bright spot of growth and opportunity in a challenging year marked by the COVID-19 pandemic. Declared essential businesses by many states early on in the pandemic, cannabis-related businesses not only created new Cannabis Jobs but drove a record-high $18.3 billion worth of cannabis product sales in 2020 — a 71% increase over 2019 — providing crucial tax revenue that has helped communities across the country. The growth of Cannabis Jobs echoed record-high support among Americans to legalize cannabis, and five additional states voted to allow medical or adult-use sales, bringing the total number of states with legal cannabis sales to 37.